Since the inception of our platform, FindingFive has always provided a relatively seamless experience of launching studies on Amazon Mechanical Turk as "Human Intelligence Tasks" (aka, HITs). Recently, we further improved this process by introducing the "New Session Wizard", which has received positive feedback – thanks y'all! The integration of a FindingFive study with Mechanical Turk is in fact one of the hallmark features of FindingFive.
Glitches Happen
However, HITs don't always go as smoothly as one would hope. Sometimes FindingFive's servers would glitch and cause connection problems, and other times participants' Internet connection would be a bit patchy. Under these circumstances, participants often had to bail out of a study midway, unable to finish the study and get paid.
Dealing with Complaints from Mechanical Turk Participants
These unhappy participants from Mechanical Turk may send complaints to researchers (the HIT requester) about their unsatisfying experience. In some cases, participants may have already completed all the trials in a study, and only had problems submitting the HIT. Most IRB protocols require such participants to be compensated for their time – and that makes perfect sense.
However, up till now, researchers on FindingFive had been pretty much left on their own to figure out how to compensate these participants. ? Eek! This process is also labor-intensive! Here's a quick checklist for what needs to be done:
Create a new trivial HIT that requires little to no effort to complete
Set the same reward rate as the original study
Open this HIT to only participants who had issues with the original study
Do this over and over again for each participant!! ?
A New Three-Click Solution on FindingFive
Our apologies that it has taken us so long to add this feature, but now researchers can complete this otherwise labor-intensive process with just three clicks! In the event that you need to create "Compensation HITs" to pay participants who experienced an issue in your study, just do the following:
Click #1: Go to the "Session Management" page of your session and look for the "person icon" next to the number of participants who abandoned the study. Click on the icon: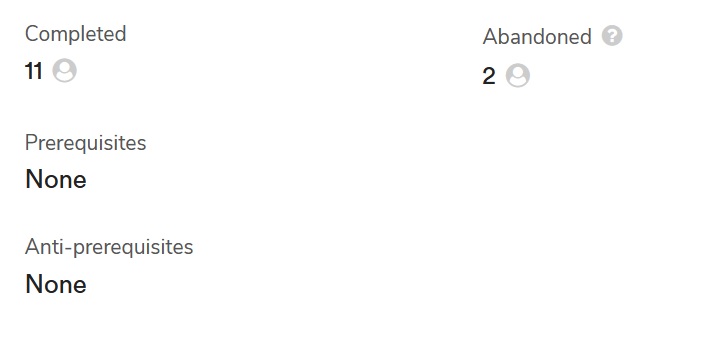 You should verify that the participant who requested a compensation is in fact listed in the list of participants.
Click #2: Then, locate the "dollar" icon at the end of each row of participant information. When you hover your mouse over it, it'll explain what it does – Creating an Compensation HIT! Click it!

Click #3: Finally, you are prompted with a message template which will be sent to the participant to notify them of the compensation HIT. If it looks good, just click "send"! If you need to make changes to the wording, please make sure the special tag [HIT_LINK] is left in the message, which will be replaced with the actual link to the compensation HIT.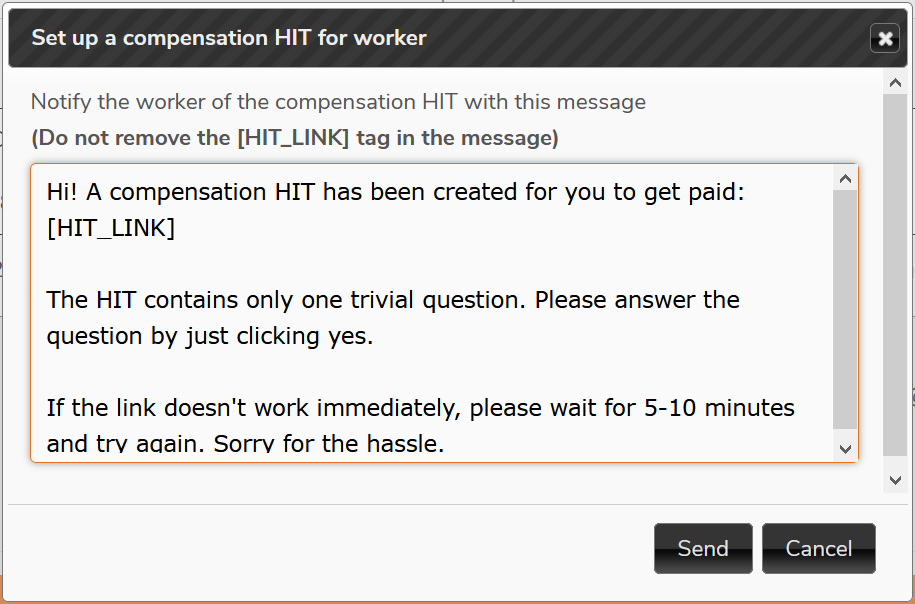 ?? You are done! ??
Feedback Welcome
The current implementation is only the first iteration of this feature. We will continue to refine the underlying mechanisms of how the compensation HITs are set up, as well as the interface with which researchers access this feature.
If you have any ideas for improvement or suggestions for addition, please let us know! Email us at researcher.help@findingfive.com any time!