Over the past two years we have enjoyed substantial user growth. A big thank you to all the researchers who have found us so far!
Now, we find ourselves needing to expand on our unique services so that we can increase our server resources to better serve the needs of this growing community of researchers. To do this, we are introducing Premium Membership – a paid service that will provide exciting new features to premium members. This will help us in our goal of expanding what FindingFive can offer. The core FindingFive features that current users know and love will still be available for free but premium members will be able to enjoy a variety of new high-powered features.
Three-Tiered Membership
FindingFive will be available to researchers in three tiers of membership:
We are committed to continuing to provide Basic Investigators (which all regular users will transition into) with the resources they need to run their studies using our existing core features. And, we are excited to roll out new services for premium investigators!
Our Membership page describes these tiers in detail. Please check it out! In the rest of this blog post, we preview two features that will become exclusive to premium members.
Priority Scheduling
An important change that will apply to all current researchers is how Mechanical Turk sessions are scheduled and launched. Currently, all researchers are able to launch an MTurk session immediately. This ability to schedule a FindingFive study for immediate launch on MTurk will become a premium-only feature. Basic Investigators will instead need to schedule sessions to run at a future date and time.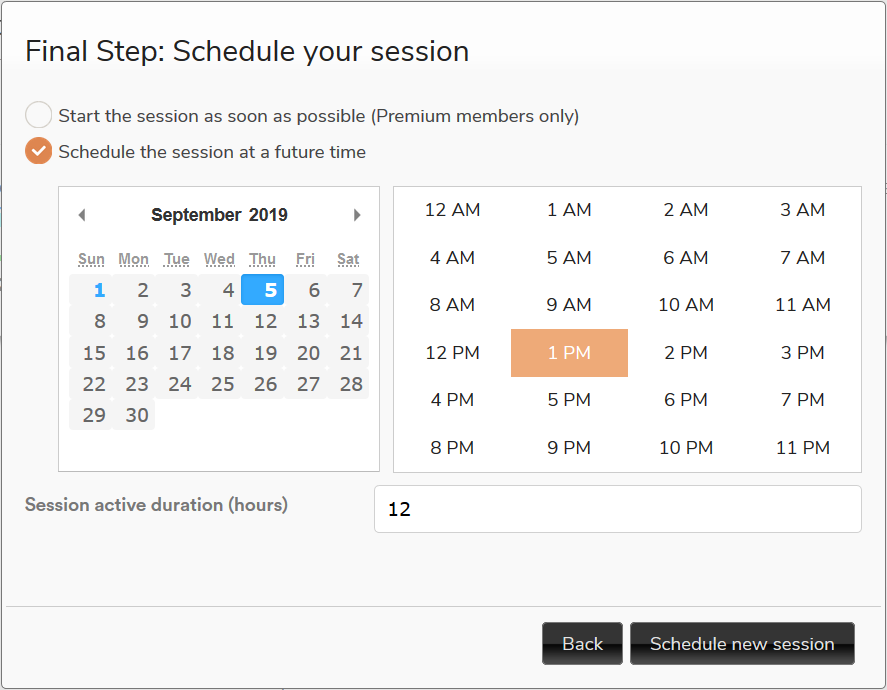 Premium Investigators will retain the ability to launch MTurk sessions immediately! Because all users are sharing our server resources, all sessions still have to be launched flexibly within any given launch window based on what other sessions are in progress. However, premium investigators' study launches will always be prioritized within popular launch windows.
If a scheduling conflict does emerge, we employ a fair-share prioritization algorithm to ensure that premium investigators have scheduling priority over basic investigators but basic investigators will always get a fair share of our server resources.
Overlapping Mechanical Turk Sessions across Studies
Another feature where Premium Members will exclusively enjoy is the ability to launch multiple Mechanical Turk sessions (i.e., HITs) at the same time. Basic investigators have to run one MTurk session at a time, even across studies. This means that once Study A is active on MTurk, Study B can only run after Study A has completely finished.
However, you might be part of a lab where multiple researchers are using the same FindingFive account to run separate studies on Amazon's MTurk at the same time. Or, maybe you need to run multiple studies concurrently because you're on a tight schedule. Premium Investigators will now be able to schedule up to three MTurk sessions across studies that run simultaneously. That is, Study A, Study B, and Study C can all be running at the same time on MTurk.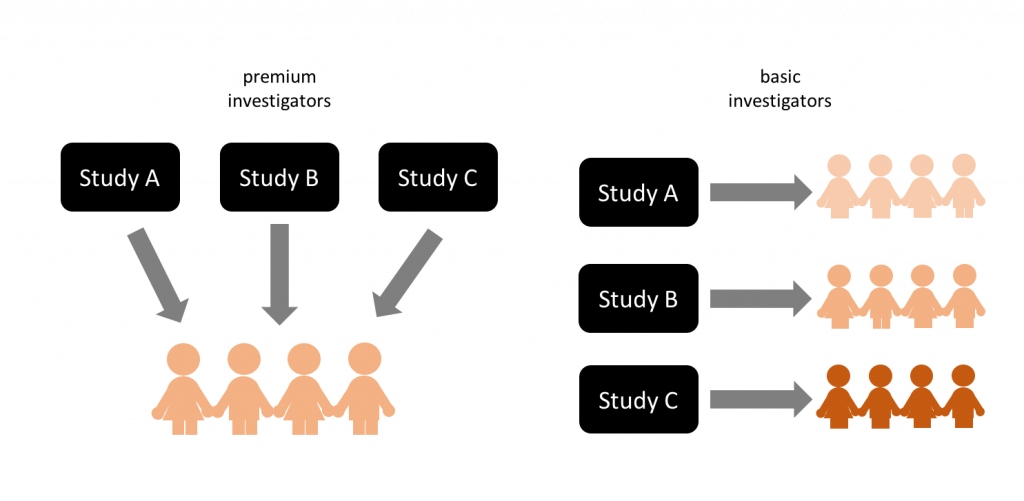 Premium Laboratory accounts can have up to 10 simultaneous HITs run at the same time. If you find yourself in situation where even 10 is too few, please feel free to get in touch with us so that we can customize your plan to suit your lab.
Feedback
We are excited to expand our services and we are looking forward to continuing our work with all FindingFive users so that you can produce high quality research. Do you have a thought about the premium features? Want to talk with us about membership plans? Let us know by reaching out to researcher.help@findingfive.com.