FindingFive works seamlessly with Amazon's Mechanical Turk. FindingFive offers an easier way to program your study and simultaneously take advantage of the participant pool and easy payment procedure that Mechanical Turk offers. We've done all the nitty-gritty backend work for you, so you can launch your FindingFive experiment on MTurk by following these easy steps.
Make sure you have an Amazon Web Services account
Go to the homepage of Amazon Web Services, and click on "Sign In to the Console". On the next page, it should ask you to create or sign up for an AWS account.
We recommend that you sign up for an account using your university email address. If you are signing up for an account on behalf of your lab, you might want to use the lab email address.
Create a new Identity and Account Management (IAM) user
Once you have an AWS account, you'll need to add a new IAM user to your account. This will generate access keys that allow FindingFive to do all the behind the scenes work for you on MTurk.
When you log into your AWS account, you should see a drop-down menu option at the top of the screen called "Services." Type "IAM" into the search bar that appears at the top of this drop-down menu and hit return (or click "IAM Manage access to AWS resources" when it appears).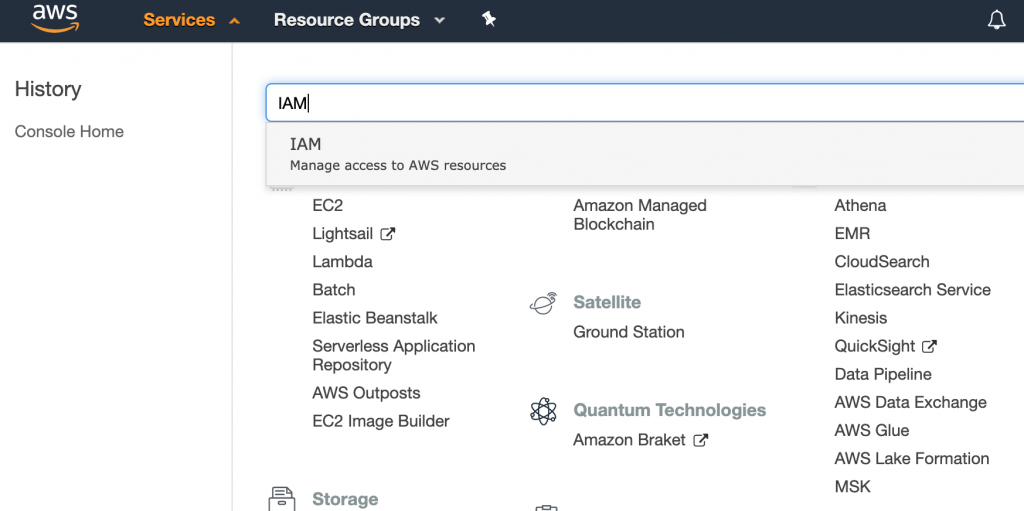 Add a new user
Click "Users" under the "Access management" option in the left hand menu on the screen.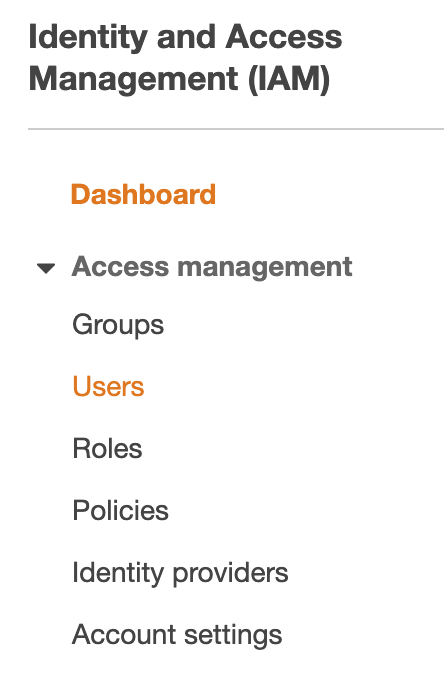 Then click the "Add user" button at the top of the screen.

Set up the user's access
Name the user (e.g., "FindingFive", since we are the authorized user on your AWS account)
Select the box labelled "Programmatic Access" under "Select AWS access type"
Click the "Next: Permissions" button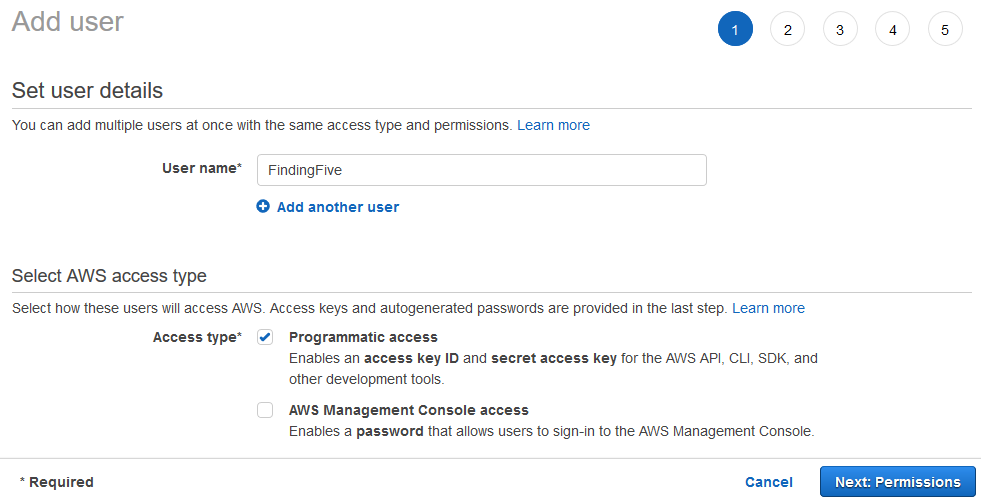 Give permission for this user to access (only) Amazon Mechanical Turk
Click "Attach existing policies directly"
Type "Turk" into the policy type search bar
Select the box for "AmazonMechanicalTurkFullAccess"
Click the "Next: Tags" button

NOTE. Tags are optional. Click on the "Next" button until you get to the "Review" page.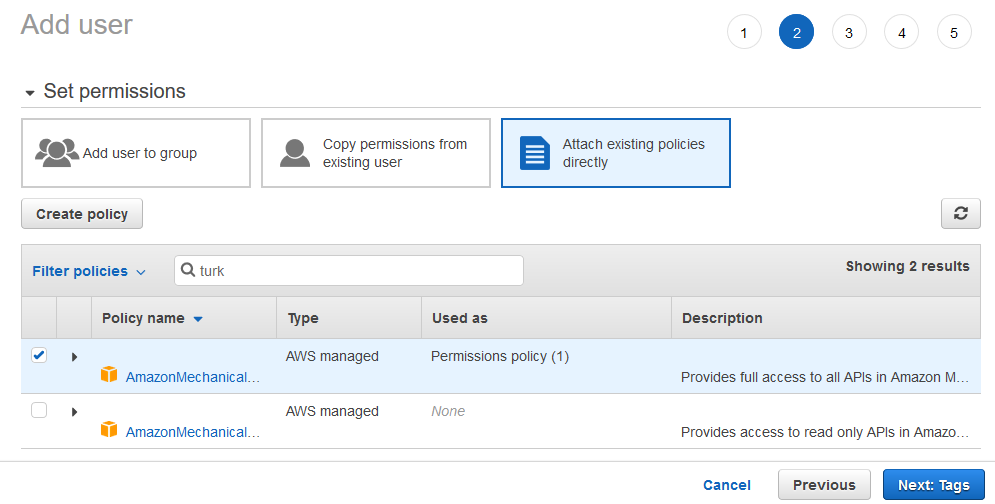 Review your new user
Make sure your "AWS access type" says "Programmatic Access – with an access key"
Ensure that "AmazonMechanicalTurkFullAccess" appears under the "Permissions summary"
Click "Create user"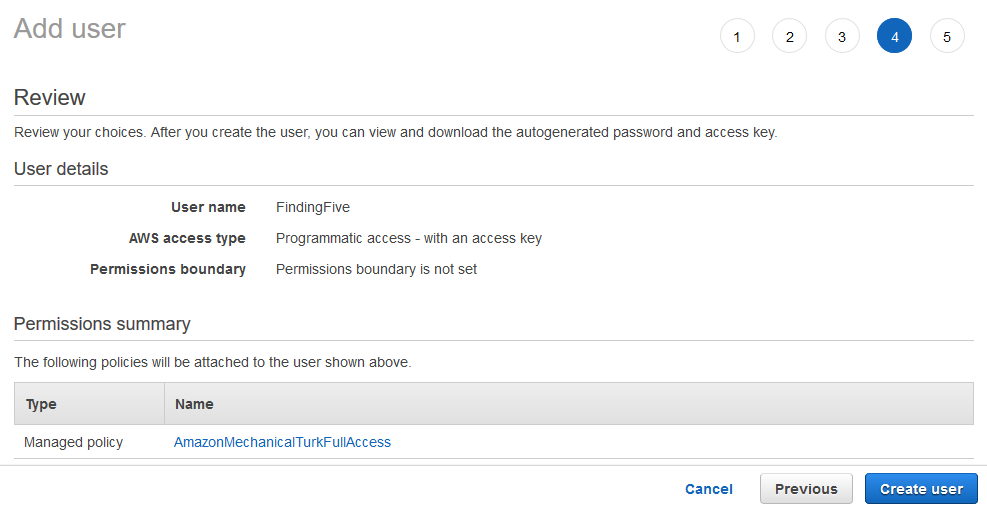 Now you should see your user's "Access key ID" and "Secret access key". Download the csv, keep this window open, or copy and paste both the key and secret into a local document on your computer.
Enter your IAM user keys on FindingFive
Now that you have a MTurk-only IAM user for your AWS account, you'll need to tell FindingFive how to access that user.
First, log into FindingFive here.
Then go to your profile by clicking the person icon at the top right of your screen.
Click "MTurk integration" on the left hand side of the screen (or scroll down to the bottom) and enter your IAM user's access and secret keys.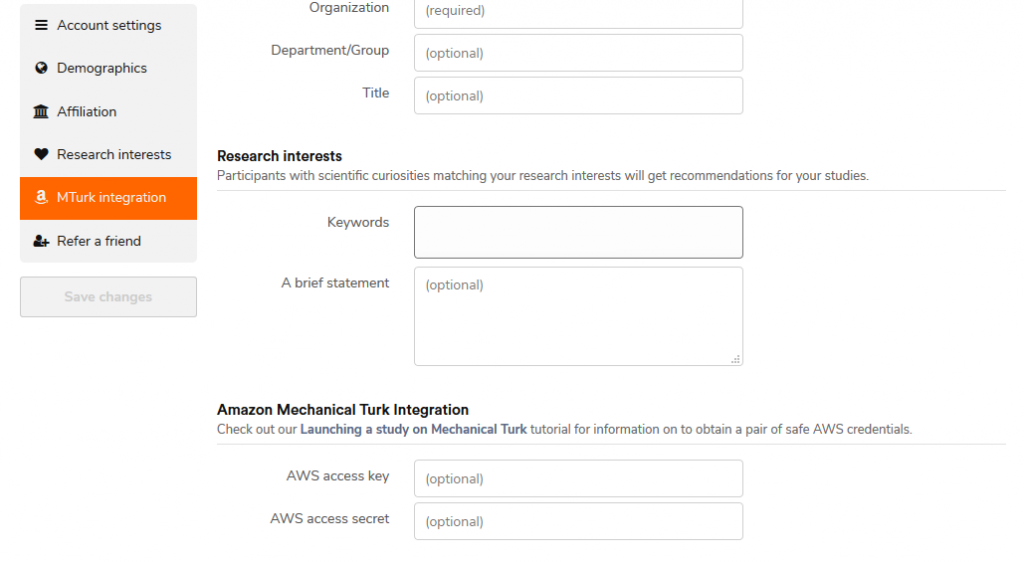 Click "Save changes" on the left hand side of the screen and you're all set up to use FindingFive integrated with MTurk!
Launch your study through FindingFive
Once you've programmed your experiment and are ready to create a session to be launched on MTurk, simply click the "new MTurk session" button on the sessions tab of your experiment.
Feedback
We would love to hear about your feedback on FindingFive's integration with Mechanical Turk. Email us at researcher.help@findingfive.com