We are very excited to announce that our bundle release of new features will be live starting Monday, November 4th! In this blog post, we preview the following highlighted changes:
Disclaimer: the screenshots and the features described in this post are not final. The final release may include products that are slightly different (and hopefully better) than what's presented here.
Redesigned Study Materials Editor
At FindingFive, we know that what you need to do most is design your next experiment. That's why we've redesigned our study materials editor to put a front-and-center focus on what matters the most – the trial templates and procedure.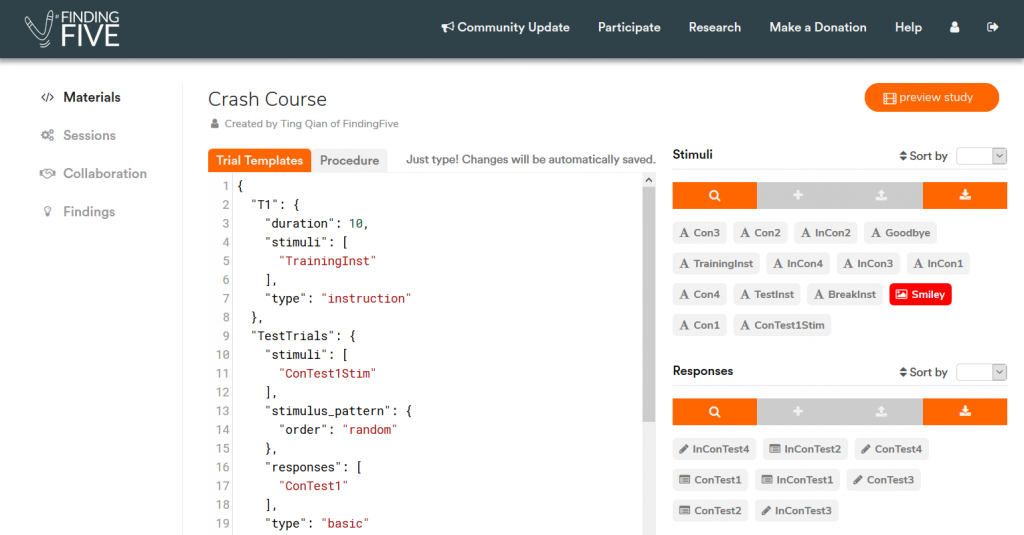 And while we were at it, we redesigned the layout of the study materials editor to utilize the available space on large monitors more efficiently, without compromising the structure you're used to.
Step-by-step New Session Wizard
With the new release of FindingFive comes a step-by-step New Sessions Wizard, making launching a new session of a FindingFive study much easier and less error-prone.
The New Session Wizard breaks up the settings for launching a new session into semantically coherent steps. It guides you painlessly through those steps, from selecting the platform you want to launch your session on (FindingFive or MTurk) to specifying how you want to compensate your study participants. The wizard is even context-dependent so that it will ask you only the questions that are relevant to your session launch.
Even more excitingly, the wizard will automatically fill in certain fields using settings from a previously finished session, saving you the hassle of typing in the same setup over and over again.
Calendar-based Session Scheduling
We are also introducing a new calendar-based session scheduling system to help start your online studies at ideal times. Using an intuitive calendar interface, researchers will be able to pick the exact date and time for starting their next session, without having to count hours and minutes until next Monday at 8am.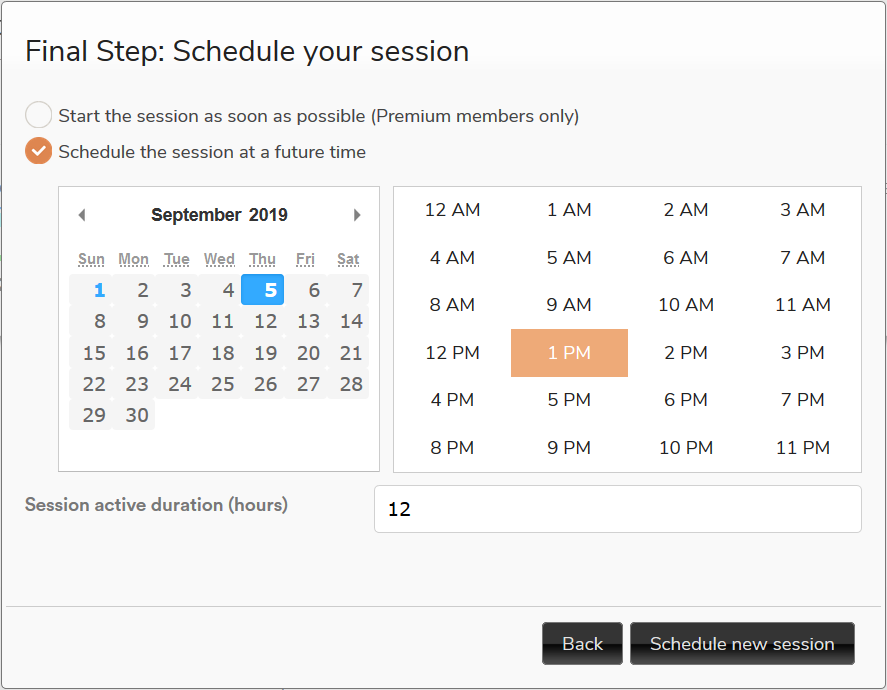 This new system comes with the additional benefits of reducing scheduling collisions among researchers. FindingFive will now automatically prevent researchers from scheduling too many participants at the same time slots, so that when your session starts, there will be little to no competing traffic from other researchers. The end result is that more of the participants that you pay can complete your study and give you the data you need.
Premium Features for Premium Members
We at FindingFive are always looking for new ways to improve the research experience for all our researchers. As a non-profit organization supported primarily by the time and money of volunteers and donors, we need a little something extra to afford to offer you the high-quality services that you deserve. That's why we are introducing Premium Membership to researchers who can help support FindingFive financially.
Premium members of FindingFive will not only get recognition among community members, but also gain access to an ever-expanding set of unique features that make it easier to run your studies online. To help make the transition into regular and premium memberships, we will be providing all of our existing researchers with a FREE Premium Investigator Plan for 3 months!
Feedback Always Welcome
As always, please feel free to email us any questions and suggestions at researcher.help@findingfive.com. We look forward to hearing from you.