FindingFive allows you to quickly and easily design experiments for deployment on the web. In this crash course, we will take a detailed tour through some of FindingFive's features by designing a simple memory study: a modification of Tulving (1975). We highly recommend you follow through this example carefully before creating your own experiment. To see a working demo of the study described in this tutorial, log in to FindingFive and check out this study.
In this second half of our crash course, we'll go through the steps involved in running your study on FindingFive. The first half of our crash course covered how to build your study from scratch…be sure to check out that post if you haven't done so already. And don't forget to check out the Study Specification Grammar Documentation and our Researcher Tutorials to learn about all of the other advanced features we aren't covering in this crash course.
---
Making your study ready to run
When you are working on the materials of a study, in the upper-right corner of the web page you'll notice a button that switches between a red caution icon and an orange preview icon.
Encountering syntax errors in the study specification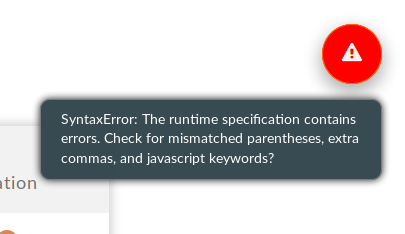 As you type in the specification editor, some basic syntax errors, such as missing commas, mismatched parentheses, and unrecognized characters, will be checked in real time. If an error is found, the preview button turns into a red button with a caution icon inside: it means that there are some serious syntactic errors in your trial templates and/or procedure. Most commonly, you probably added a comma where you shouldn't, or left out a comma where you shouldn't have.
These basic errors must be fixed before more complex errors, which often involve the logic of a study, are detected. These additional problems are investigated after you click on the orange preview icon, as they are checked by the more powerful study parser on our server. These more complex errors, if found, are reported to you in a language as plain as possible:

If no additional errors are found, you will be taken to preview the study directly. Make sure that your pop-up blocker won't accidentally prevent the preview window from opening.
Upload necessary resource files for stimuli
Our study parser automatically infers a stimulus's filetype from your stimulus definitions (such as image, audio, or video stimuli). If a corresponding resource file is missing, you will receive a prompt when your mouse hovers over the stimulus (you may need to refresh your browser to see this prompt). To upload a single stimulus file, simply click on the stimulus and then the "upload file" button.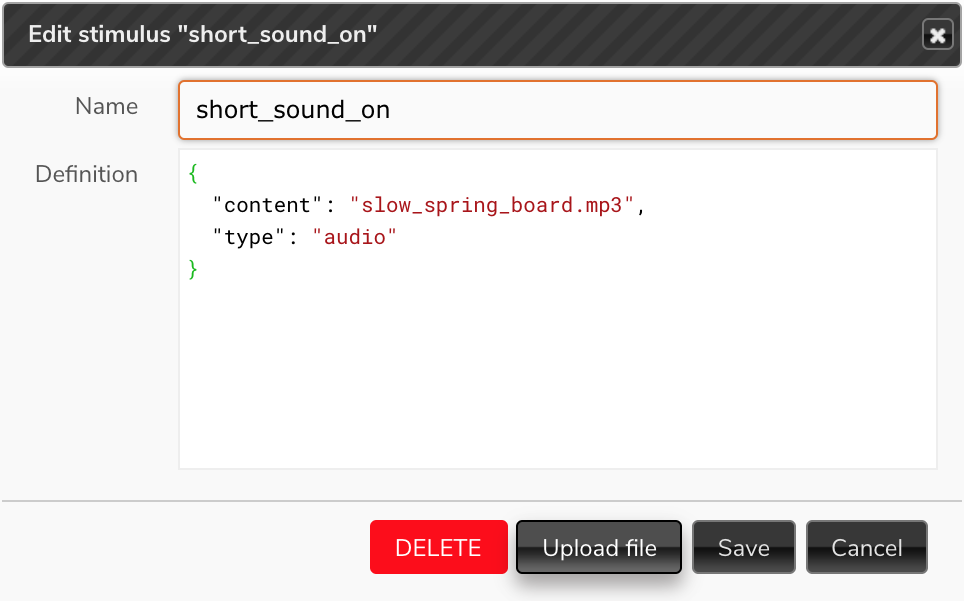 In many cases, a researcher may create two studies that are minor variations of each other. It would be a mind-numbing process to upload the same stimulus files all over again. Fortunately, stimulus files that are uploaded to one study can be directly accessed by filename in another study within the same account. That is, two file-based stimuli sharing the same "content" property actually point to the same stimulus file uploaded to your account. This is because resource files (including stimulus files and consent forms) are uploaded to an account-specific resource file folder, rather than a study-specific file folder. To see what stimuli are uploaded to your account, you can click on the Research menu at the top right of your screen, then click on Resource Files:

This will take you to a list of all of the resource files that have been uploaded to your FindingFive account, including consent forms, images, videos, and audio files. For example, if we look at the documents that we have saved in our account, we see two consent forms have been uploaded and are available to use across any of our studies: one consent form that is specifically for study tutorials that we create, and another generic consent form that covers most of our other adult studies.

(Note that if you're a collaborator on a study but not the creator/owner of that study, you won't be able to see the resource files associated with that study. Those files will "live" on the account that created the study.)
Have lots of stimuli to upload? No problem! FindingFive allows for batch uploading of multiple stimulus files and/or consent forms. To do this, gather the desired files into a folder. (The maximum number of files per upload is 400.) Compress the folder into a ZIP archive that is no larger than 100MB. Then click the "Upload" button in your Resource Files screen, and select the option to upload a ZIP archive. Please be patient and do not navigate away from the Resource Files screen while the archive is being uploaded.
Your study is now ready to recruit participants and run!
Starting a session
Once you've confirmed that your study is ready to run, it's time to make it available to participants by creating a session. To do so, simply click the New button under the Sessions tab, either creating a new FindingFive session, or a new MTurk session. Here you can specify how many participants you desire, how long you want your experiment to be available, and when you want it to be posted. Additionally, you can specify participant eligibility criteria (e.g., age range, completion rate, previous participation) and access restriction. (Note: specifically designed for the current beta, you can send emails to invite participants to open sessions of your study. All invitees will receive an automatically-generated invitation code for signing up as a participant; this option can be found under "access restriction" section when creating a new session on FindingFive.)
To run your study on FindingFive (rather than Mechanical Turk), your new session screen will look like this: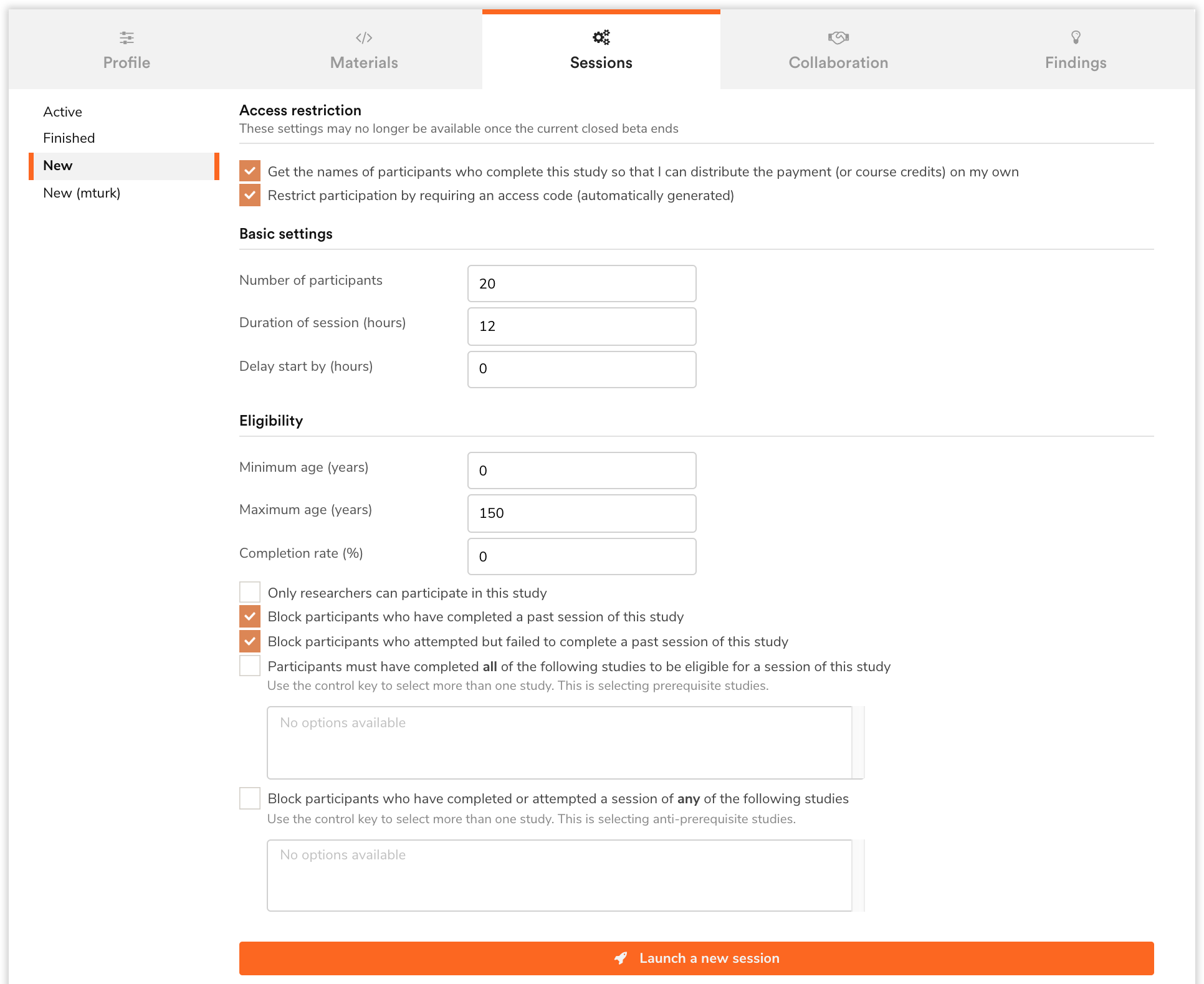 Starting a new Mechanical Turk session will require you to answer a few additional questions about the way your study will appear on mturk, and about participant eligibility: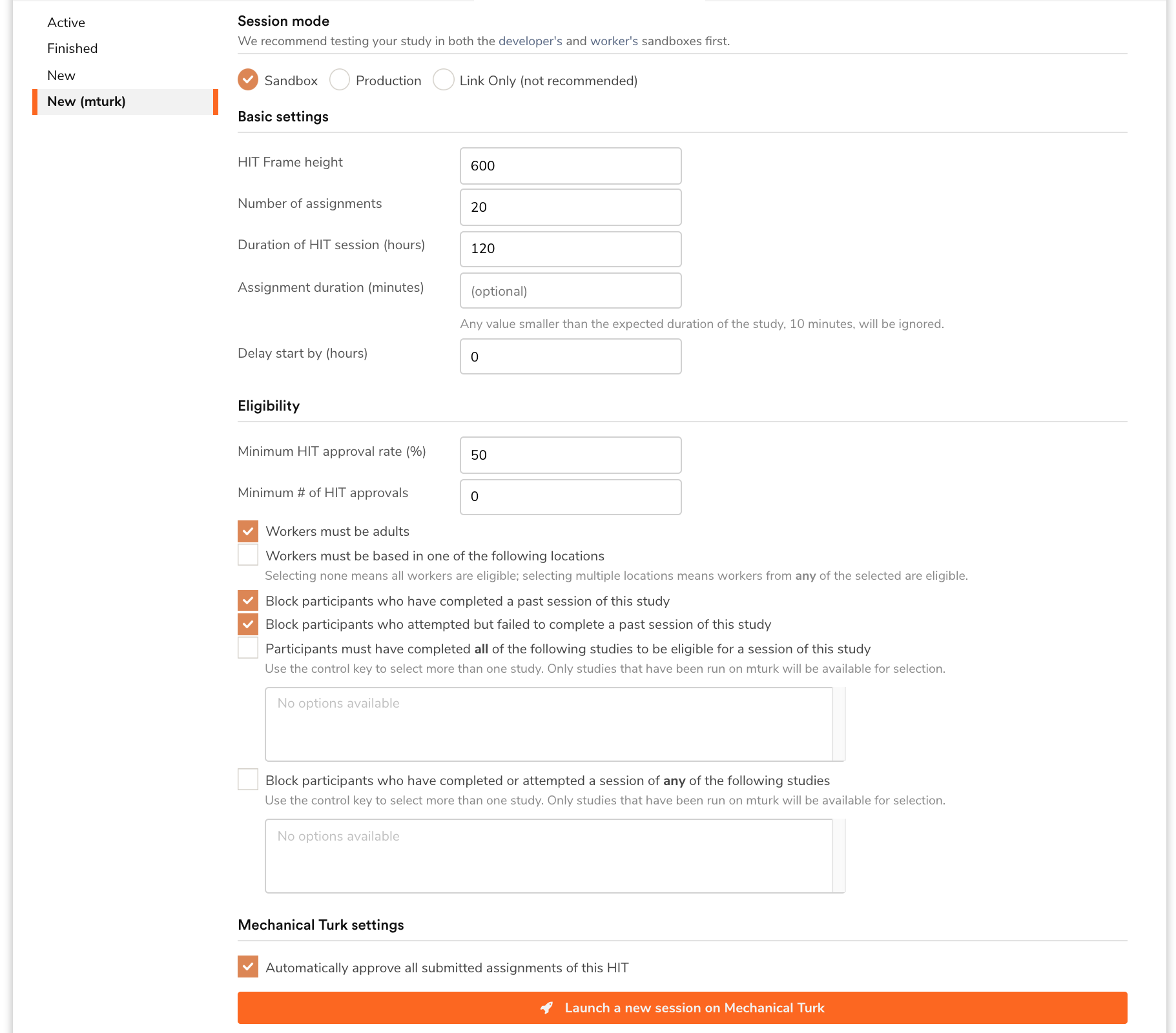 If you have ongoing or scheduled sessions, these will appear under the Active tab in the left sidebar, and will be visible to participants who meet your specified eligibility requirements on the participant-view (visible by clicking the Participate button at the top of the screen). You'll also be able to see how many participants have completed your study and how many are participating right now! For example, we currently have one session of the Crash Course Tulving (1975) study up and running. It is available to participants on FindingFive (rather than MTurk), will close in 5 months, and participants do not need a special access code from us in order to participate:

Hovering over the end time, start time, or progress fields for a session will give you detailed information for that particular session:

Looking at the data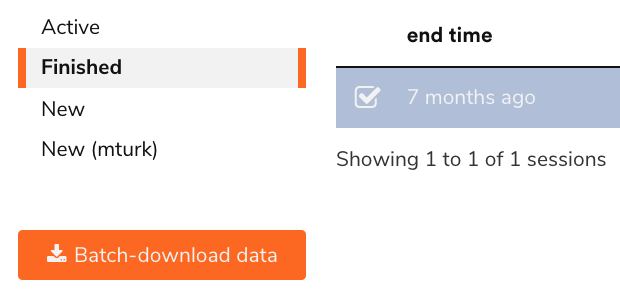 After a session has been completed, it will appear under the Finished sessions tab, and you can download the data (a zipped folder of .csv files) by selecting the desired session(s) and clicking the Batch-download data button. Note that you can only download the data from a session once the session has ended (either by ending the session early or waiting until the requested number of participants have completed your study).
---
Congratulations on making it to the end of the crash course! We encourage you to check out the the working demo of the study described in this tutorial, read the Study Specification Grammar Documentation to learn about all of the advanced features we didn't include in this crash course, and review our Researcher Tutorials for additional FindingFive tips and tricks.
Please do not hesitate to contact us at researcher.help@findingfive.com for any questions you may encounter while using FindingFive. We look forward to hearing from you!